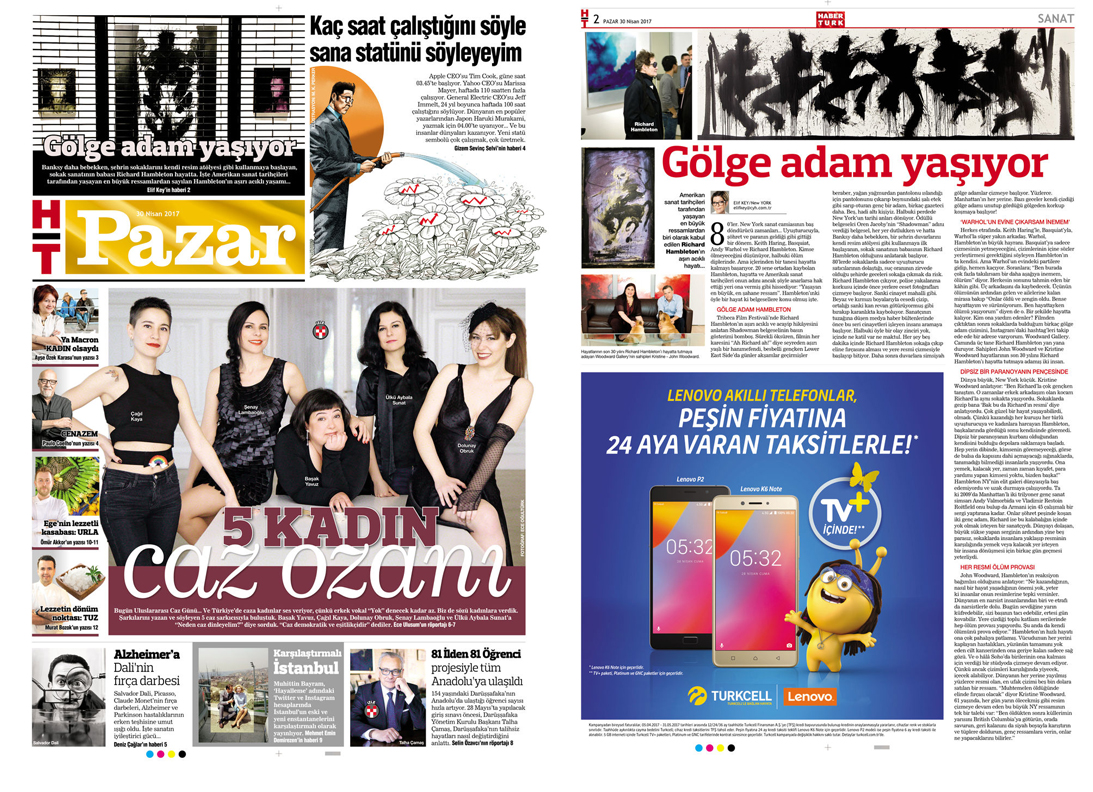 Check out this feature in Turkish publication HT Pazar on Richard Hambleton and the exhibition "I Only Have Eyes for You" at Woodward Gallery" by Elif Key.
Read the full English translation below:
The Shadow Man is Alive
by Elif Key
HT Pazar, April 30, 2017
The extremely tragic life of Richard Hambleton, who is considered as one of the greatest painters alive by American art historians…
1980s, the heyday of the arts community of New York… A period when fame and money are easily lost with the use of drugs. Keith Haring, Basquiat, Andy Warhol and Richard Hambleton. No one believes in death; yet, death is at their foot. But, one of them survived. Having dissolved into thin air for 20 years, Hambleton is alive and American art historians think that they can do him justice only if they call him "The greatest, the most brilliant painter alive." Hambleton lived such a life that has become the subject of many documentaries.
HAMBLETON THE SHADOW MAN
There was literally no one in the (original) press screening for the documentary narrating the extremely tragic and weird story of Richard Hambleton in Tribeca Film Festival. An elderly lady, constantly coughing and sighing in every minute of the movie. Apparently, the lady spent days and nights with him in Lower East Side when she was young. A young man, who took off his pants as they were soaked and wrapped his waist with his scarf like a skirt, and a few more journalists. There were five or six of us. However, there are historical moments of New York being displayed on the screen. The award-winning Oren Jacoby's documentary, Shadowman, firstly tells that it was Richard Hambleton, the father of public art, who was the first to use the walls of a city as his own painting workshop when there was nothing at all and even Banksy was a baby. It was also hazardous to go out at nights in 1980s (NYC), at a time when there were only drug dealers on the streets and the crime rate was very high. Richard Hambleton, on the streets, began to draw corpse outlines (Image Mass Murder) on sidewalks in fear of getting caught by the police. Like a crime scene, he was drawing the corpses with white and red paints, creating, so to speak, a welter of blood, and would disappear in the dark. The media, fooled by the artist, began to look for the serial killer, who committed these murders, (it was all over) in the news. Whereas, there was no such thing, neither a serial killer nor a victim. Everything starts and ends with Richard Hambleton, going out with a paint brush in his hand, drawing a painting on the sidewalks. Then, he began to draw black shadow men on the walls. Thousands of them. All over Manhattan. Some nights, he forgot (the locations of) the shadow men he had drawn and moved away from them in a state of fear!
IF I GET TO WARHOL'S HOUSE, I WOULD NOT
Everyone stood by him. He was a very close friend with Keith Haring, Basquiat, Warhol. Warhol was a great fan of Hambleton. It was Hambleton, who told Basquiat that only drawing was not enough, he should include some words in his drawings. Yet, he used to go to the parties at Warhol's house and leave before long. When asked, he used to say: "If I stick around here for too long, I cannot go downstairs again and would die." He was like an oracle, who foresees how they will die. He was going to lose all his three friends. After their death, seeing the inheritance passed to their families, he said, "They are now dead and have become rich. Whereas I am alive and living a dog's life. I died when I am alive." He somehow survived. How? Who helped him? After the movie, I hit upon something, based on a few drawings of shadow men on the streets and the hashtags on Instagram. Woodward Gallery. There are three Richard Hambleton side by side on its window. The owners of the gallery are John Woodward and Kristine Woodward, who devoted the last (15-20) years of their life to keep Richard Hambleton alive.
IN THE GRIP OF A BOTTOMLESS PARANOIA
The world is big; New York is small. Kristine Woodward recounts: "I saw Richard's (public art) when I was very young. Back then, my husband, then-boyfriend, moved out of his (Lower East Side) loft -and Richard moved in. John was walking on the streets (with me) and pointing out the paintings by saying that, "this one is done by Richard as well." (Hambleton) could have had a really good life, but he would not. Any money he was given was once spent on women and drugs; and he could foresee everyone's fall, but not his own. As he became the victim of a bottomless paranoia, he began to hide in the warehouses, where he found himself. He lived with the people who he did not know, in the shelters that no one could see, even if they did, they would abstain from going inside. We did our best to help him out by providing food, shelter accommodations, often clothing, and (always) money!" Hambleton could not cope up with the elite galleries in New York and was trying to stay away. Until, in 2009, when two young art dealers (not) from Manhattan, Andy Valmorbida and Vladimir Restoin Roitfield found him and made him create an exhibition featuring 45 works for (Giorgio) Armani. They were two men in the pursuit of fame whereas Richard was an artist who wanted to disappear in this crowd. Following the (Richard Hambleton New York) exhibition displayed all around the world and making a splash, a few days were enough for (Hambleton) to become broke again and to ask for food or any place to stay (away) from people on the streets in exchange for his drawings.
EACH DRAWING IS A DEATH REHEARSAL
John Woodward explains that Hambleton is (a conceptual artist), addicted to the reaction of his work: "As long as people react to his paintings, it does not matter how much (money) he earns or how his life goes along. He may love someone today, but swear (about them) tomorrow; he may make a fuss over you, but get rid of you tomorrow. He was rehearsing for death in the series of mass murders that he drew on the sidewalks. Now, he is rehearsing for his own death." The fast life of Hambleton cost an arm and a leg for him. Following the diseases spreading all over his body and the skin cancer destroying his face, all he is left with is his right eye. And, still, he continues to draw his paintings in spaces provided by someone. Since the only way that he could have food and drink is to (make art). A painter with hundreds of drawings all over the world, with his smallest painting costing five thousand dollars. Kristine Woodward claims that, "(Hambleton) will probably have a paint brush in his hand, when he dies." This great NY painter, nearly at the age of (65), who will continue to paint (with his last gasp of energy), has a single demand (he has shared with the Woodwards): "After I die, take the half of my ashes to (Vancouver) British Columbia, and scatter them there. Mix the rest of my ashes with flat black matt paint and fill the tubes with them, give them (out at my funeral) and to young painters; they would know what to do."