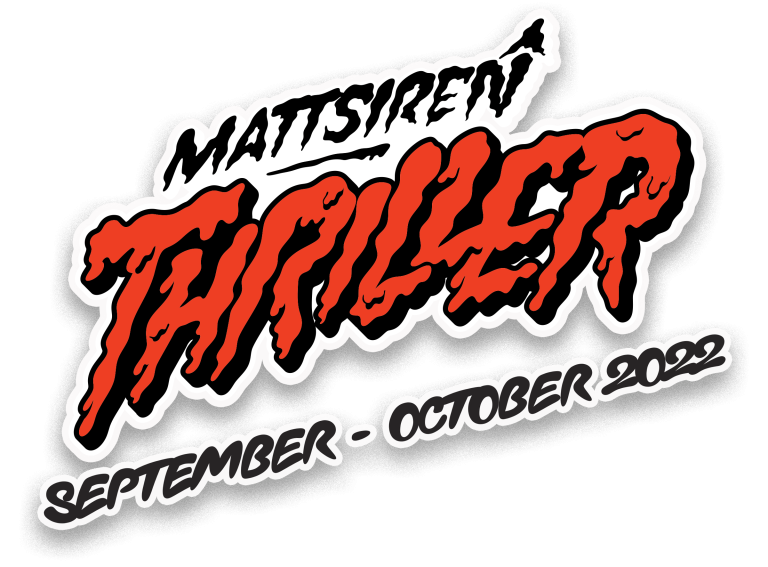 MATT SIREN
Matt Siren: Thriller
September – October 2022
Woodward Gallery
For well over a decade, Matt Siren brought piercing, high-contrast artwork from the streets of New York City to the walls of Woodward Gallery. This Fall, the Artist's first solo exhibition at Woodward Gallery, Matt Siren: Thriller, explores his creative evolution. Matt Siren's collection of characters is widely-recognized and respected from the American East and West Coasts to European cities, such as London and Paris. By fusing thick-lined graphic content, sharp comic book illustrations, and playful storytelling into his art, Matt Siren's work thrills. This exhibition highlights the Artist's most iconic characters, who stir up imagination, and seduce. Vintage screenprints on metal signs and current hand-painted wood-block assemblages are featured together in a two-part exhibition at Woodward Gallery. Prepare for a wild ride of past, present, and future storytelling —unique to Matt Siren— transcending street and fine art.
Since 2008, the beautiful face of Matt Siren's Ghost Girl has appeared on urban walls, became a set of vinyl toy collectibles, decorated reality television beach homes, was discussed on CBS News, was worn by the fashion world, and was even transformed into a 7.6-acre corn maze. This hard-edge, female icon with dark hair pulled to the side by a flower, harkens back to Matt Siren's youthful love of gaming— particularly, his nostalgia for the arcade game, Ms. Pac-Man. Ghost Girl stares directly at her voyeur's eyes, hypnotizing the viewer to follow her. The powerful silhouette of Ghost Girl is set in a variety of colors as a representation of diversity and feminism; she could represent anyone, no matter their background, size, sexual orientation, race, or ethnicity. Her universal image has become Matt Siren's signature symbol. All women are intended to be represented in Ghost Girl's robust and striking spirit.  
Matt Siren's Death Face is one face of a character called a Quintesson from the 1980s cartoon, The Transformers. The fictional robo-alien race of Quintesson has 5 faces. As fans of The Transformers franchise know, the specific season where the Quintesson characters appear is filled with dark psychological undertones. Their graphic design style and deep meaning inspire Siren's own creative twist on these characters.
Siren's vintage Pin-ups represent the Artist's respect for the female form and its vigor. Through his deep appreciation for women, their physical strength, and ability to be resilient in the face of pain and conflict, Matt Siren's Pin-ups are not intended to objectify women through the problematic lens of the male gaze, but rather, to alter it to focus on feminist power through sexuality. The erotic Burlesque in the Living Room series teases the viewer to engage with Matt Siren's event advertisements discussing performer Gigi La Femme. Specifically, Siren inverts the commercial dialogue so the female characters may utilize their femininity to regain control of the male gaze that fails to define them. 
Metaphorically and symbolically, Matt Siren's Skull represents a wartime spirit of going into battle with a vengeance. The Skull represents a sense of condemnation and a warning of impending death. However, death, as a metaphor, can also signify the end of an era— or a new beginning. Matt Siren's Skulls are presented, not as figures of existential doom, but rather, as comical or ironic manifestations of serious caution. 
Pulling from our archives, Ghost Girl and Burlesque in the Living Room limited edition prints will be made available at Woodward Gallery, on a first-come-first-serve basis, for the duration of the exhibition. Woodward Gallery invites all to the exciting realm of Matt Siren: Thriller. A full-color, digital catalog is available on our website. This exhibition is presented at Woodward Gallery in our street-level windows 24/7, by private appointment, and as an online exhibition and Viewing Room on Artsy.net. Come one, come all!